July 4th 2021 Hyundai Santa Fe Deals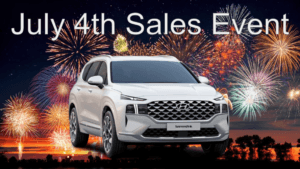 There is no doubting the fact that Hyundai Santa Fe is one of the best cars around. In case you have been thinking about a car with all the modern features, this one has managed to tick all of the boxes. It is the perfect mid-sized SUV that can meet all of your driving needs without any compromise.
Here is the best part.
Are you aware that it is possible to become an owner of this car without having to break the bank? This is absolutely possible with the discounts and deals being offered at this year's 4th of July, 2021 sales event. With these discounts and rebates on offer, you are guaranteed of getting your favorite Hyundai Santa Fe. Below are some of the top features of this car and why you need to take advantage of these deals.
Modern Safety Features
This is one of the reasons why Hyundai Santa Fe cars have increased in popularity in recent years. Its driver-assistant technologies are second to none. For instance, there is its adaptive cruise control which ensures that you are staying within your speed limit. With this, you don't have to bother about your car's speed as such will be adjusted automatically. Also, its forward collision warning ensures that you are notified of any impending collision. It even provides alerts about pedestrians in your front. Other safety features are lane-keep assist and driver drowsiness monitor.
Comfort Features
When it comes to drivers and passengers having the ultimate experience while driving on the road, nothing has been compromised in Hyundai Santa Fe. Select models have heated as well as ventilated front seats, automatic temperature control, leather upholstery, and many more. There is ample storage space in this model ensuring that you can pack your trunk full of sports gear, luggage, tools… you name it! Other comfort features are keyless entry, along with power locks and windows. You can see that Hyundai Santa Fe cars are capable of providing maximum comfort. Even if you have a large family, there is no need to be worried as there is enough space for 7 passengers.
Next Level Durability
When it comes to durability, Hyundai Santa Fe cars are highly rated. They will always provide good value for money. For instance, they require less repair/maintenance as compared to other brands you will come across in the market. Also, they have a lower rate of severity. These are cars that can last up to 250,000 miles and sometimes beyond before replacement will be required. All you have to do is ensure that it is properly maintained.
Visit Carolina Hyundai For Our 2021 July 4th Sales Event
Having seen the impressive features of Hyundai Santa Fe, you most likely have one question running through your mind right now. How do I purchase it in the most affordable way? Were glad to inform you that July 4th, 2021 is the perfect time to purchase this model. Come visit our lot in Highpoint, NC to see the discounts we are offering on the Hyundai Santa Fe and other Hyundai models. Whether you plan to purchase Hyundai Santa Fe Limited, Calligraphy, SEL, or SE, these deals will ensure you spend less! Contact us today for more info on these deals!