July 4th 2021 Hyundai Sales Event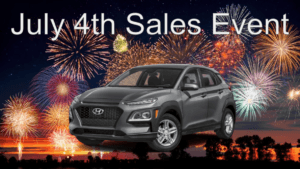 Enjoy Huge Discounts on Hyundai Models
There is only one way to get discounts for your favorite Hyundai car right now – by taking an active part in the sales event which is expected to happen on July 4th weekend. This is one big event that will definitely make your Independence Day very memorable.
Based on the above, there is every reason to believe that you can't wait to find out more about the event of this sale. The good part is that you have come to the right place where everything about the July 4th, 2021 Hyundai Sales Event will be explained.
July 4th, 2021 Hyundai Santa Fe Deals
Hyundai Santa Fe is definitely the dream of every driver. It is one car that has managed to stand out in terms of impressive features in modern times. Everything is intact to make you comfortable while driving from one location to another. For instance, it comes with an automatic climatic control feature. With this, you don't have to guess whether the outside temperature is hot or not. Everything is handled automatically to ensure your car's interior maintains the right temperature.
Another stunning feature is its anti-lock braking system. With this, you are in full control of your vehicle while driving on the road. Finally, Hyundai Santa Fe can contain 7 people comfortably. This makes it perfect even if you have got a family. There are many features that makes this car the favorite for most drivers in the US. However, there is a major problem. This is the fact that it might be beyond your budget.
Do you know there is a way to get Hyundai Santa Fe at a discounted price? Are you aware that it is possible not to save before purchasing this sophisticated car? This is what the popular July 4th sales event is expected to offer. You will be getting access to a new Hyundai Santa Fe at a reduced price. There will not be any hidden condition or compromise. All you have to do is buy and start driving.
July 4th, 2021 Hyundai Kona Deals
Have you been searching for a way to purchase any of those subcompact vehicles before now? The truth is that Hyundai Kona doesn't just tick all of these boxes. In addition to such, it blows anything you have seen in the past out of the way. There is no doubting the fact that this car has been a major proof of how far technology has advanced in recent years. There are lots of good things about it. These could be its front cabin, gas mileage, and front seats.
There is also its battery run-down protection feature. This ensures that your battery lasts as expected. Furthermore, its EPAS (Electric Power-Assist Speed-Sensing Steering) technology ensures that you are very comfortable while driving even when the car is at high speed. As the speed increases, less power will be required to control the steering. Given all of the above features, it is quite obvious to see why Hyundai Kona has gotten lots of positive reviews from drivers in recent times. It definitely offers very good value for the money.
The best part is that you have the rare chance of becoming a proud owner of this modern car at a low price. This can happen through the sales event to be held this July 4th weekend, 2021.
July 4th, 2021 Hyundai Venue Deals
When the Hyundai venue got released initially, many people doubted its potential. For instance, most car owners never believed it could rival other subcompact cars that have been making headlines in the market. Fast forward to today, it is obvious that all of such thoughts have changed. This is because the Hyundai Venue is the dream car for most drivers who love smaller SUVs. For instance, its passenger space is quite surprising. This makes it a perfect option for families. Simply put, its cabin is quite roomy. You will definitely feel very comfortable driving around.
Whether it is front or rear seats, both have ample space. The Hyundai venue has many safety features set in place for its passengers and driver. These could be in the form of:
Driver-attention monitor
Lane-keeping assist
Lane-departure warning
Forward-collision warning
Automated emergency braking
And more
Seeing all of these features, there is one question that must be on your mind. When is the best time to buy a Hyundai model? There is only one time – the sales event on the 4th of July. With this, you will get access to various deals to choose from.
Carolina Hyundai July 4th Sales Event 2021
Carolina Hyundai is the best platform that will enable you to get top deals and discounts for your favorite Hyundai cars without any compromise. At Carolina Hyundai, we have one mission which is to ensure you that you become a proud owner of either Hyundai Santa Fe, Hyundai Kona, Hyundai Venue. Watch out for this date as the deals will be mind-blowing.