Which Hyundai Ioniq 5 Has Apple CarPlay?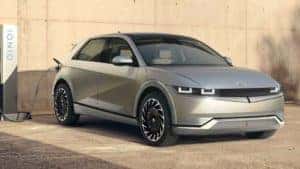 The new electric SUV, the Ioniq 5, has kickstarted Hyundai's new electric vehicle series. The Ioniq 5 doesn't just lead the new electric lineup, it brings an all-new modern exterior design with it. Thanks to its unique styling, this SUV cannot be mistaken for any other vehicle. It stands out from every vehicle we are familiar with on the road.
Three separate available trims provide pure ingenuity for drivers. All three trims provide the same incredible range – up to 303 miles worth of driving with a fully charged battery – keep in mind, the Ioniq 5 is a battery-only vehicle. It can charge from 10% to 80% in as fast as eighteen minutes! It also provides 168 kW of power, which equals about 225 horsepower. The Ioniq 5 comes in two separate drivetrains, including both rear-wheel drive and all-wheel drive.
The Ioniq 5 is only available in select quantities at the moment, however, it is slowly coming to more dealerships! The Ioniq 5 offers many incredible features to wow every passenger that gets into the vehicle. Read on to learn more about what exactly the Ioniq offers.
Ioniq 5 Features
Matching its modern exterior, the Ioniq 5 has an equally modern interior. Not only does it provide a 12.3-inch touchscreen infotainment display, it also includes an equal 12.3-inch digital instrument cluster. The infotainment display includes features such as navigation and Bluetooth for up to two devices at once. The digital instrument cluster, on the other hand, offers features like a blind spot monitor, battery charge information, and another view of the navigation system. You can also see other important information about your vehicle, including the tire pressure.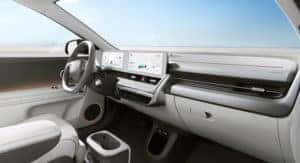 An available panoramic sunroof can be added onto the Ioniq 5 on the Limited trim – the top trim. Additionally, while the base SE trim offers cloth seating, the SEL and Limited trims provide H-Tex leatherette seating. While this seating is not real leather, leather seating is an option on other Hyundai models. Heated front seats come standard on all three trim levels, and the Limited trim also offers ventilated seating as well. The SEL and Limited trims offer ambient lighting, available in 64 colors.
If you are curious about the amount of space available in this SUV, it provides up to 59.3 cubic feet of cargo space with the rear seats folded down. These second row seats provide a 60/40 split, so drivers have the ability to customize their seating depending on their needs. With the seats up, the cargo space behind the second row is 27.2 cubic feet.
The Ioniq 5 provides many safety features for drivers. Some come standard, while others must be added on. For example, lane keep assist, reverse parking distance warning, intelligent speed limit assist, safe exit assist, among other features come standard. However, if you want to add features such as that blind spot monitor, surround view monitor, and forward park assist, you must upgrade to a higher trim.
While these are just a few examples of the features provided on the Ioniq 5, the SUV also provides many other incredible options. Every feature has been crafted with care and added with the intention of making the Ioniq 5 the most intuitive vehicle possible.
Does the Ioniq 5 Offer Apple CarPlay?
To go along with the large 12.3-inch infotainment display system, the Ioniq 5 does offer Apple CarPlay and Android Auto. This incredible feature allows drivers to access their favorite phone apps, as well as their music. Apple CarPlay and Android Auto come standard on the Ioniq 5, so drivers can enjoy the feature no matter what trim level they choose. The Bose sound system allows for premium sound quality when listening to your favorite music as well.
Contact Carolina Hyundai Today!
The new Ioniq 5 sets up the future of the Hyundai battery-electric vehicle lineup. It also allows for drivers to access a much more affordable option compared to other brands, like Tesla. This goes to show that battery-electric vehicles can be accessible to everyone without breaking the bank.
The Hyundai Ioniq 5 is available in limited capacities across select states, however, Hyundai plans to increase availability. If you are located near the High Point, North Carolina area and are interested in an Ioniq 5 model, contact Carolina Hyundai today. We will be able to tell you whether or not we will have one of these amazing SUVs in our inventory soon.
Here at Carolina Hyundai, we also have many other available vehicles in our inventory. Feel free to stop by our dealership to test drive one of the vehicles on our lot. Our expert staff will be able to answer any questions you may have regarding our available models, as well as any questions regarding the Ioniq 5. We hope to see you soon here at Carolina Hyundai!