Which Hyundai Elantra has Leather Seats?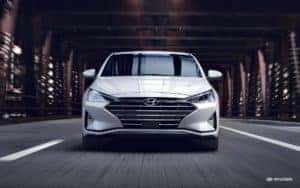 The Hyundai Elantra has been around since the 1990s; since its inception, the compact sedan has gone through seven remodels.  Each year, Hyundai adds even more incredible features to the vehicle.  This makes it no surprise that the Elantra has been one of Hyundai's top-selling vehicles for years.  Not only is it one of the top-selling models, it's one of the longest-running models for Hyundai as well.  The Elantra works diligently to provide both comfort and safety for its drivers and passengers alike, especially after its latest remodel.
The Seventh Generation Elantra
The seventh generation of the Elantra began in 2021.  The Elantra underwent a complete transformation, both inside and out.  It offers dramatic exterior styling, along with an upscale interior cabin.  Thanks to its small size and easy handling, the Elantra also makes a great vehicle to drive in the city.    In 2021, the Elantra even won the North American Car of the Year Award by NACTOY.  It beat out the Nissan Sentra and Genesis G80 for first place.  The Elantra was also awarded this back in 2012.  
For the 2022 model, the N-Line trim continues to push its limits in terms of power.  It offers a 2.0 liter, 276 horsepower engine when equipped with the six-speed manual transmission.  When not equipped with this sporty engine, the Elantra's engine options still see up to 201 horsepower.
Along with that amount of power, the Elantra comes with Hyundai Smart Sense – a full safety suite of features.  Some of these features include Parking Collision-Avoidance Assist – Reverse, High Beam Assist, Driver Attention Warning, Lane Keeping Assist, Smart Cruise Control with Stop & Go, and more.  The features are designed to not only keep the driver of the Elantra safe, but also everyone on the road by preventing accidents.  Smart Sense can help you stay in your lane if you begin to drift, stay at a safe distance from other drivers, and warn you of other drivers and objects when reversing.  These features make it no surprise that the Elantra was also awarded a Top Safety Pick by the IIHS.
The interior of the newest Elantra provides maximum comfort and accessibility as well.  The smart cockpit design offers a 10.25-inch digital instrument cluster, as well as an optional 10.25-inch touchscreen infotainment display.  Additionally, the Elantra provides available Apple CarPlay and Android Auto, as well as wireless charging.  Drivers can also control their Elantra from their phone with their Digital Key.  This allows drivers to not only unlock their car from their phone, but share their digital key to their car with other people!
Leather Seating on the Hyundai Elantra
On top of all of the other amazing features that the Elantra offers, they do offer available leather-trimmed seating.  
Leather seats have always been a symbol of luxury and status, going back many years.  Originally, leather seats were only found in the most high-end vehicles.  However, nowadays, most companies offer leather seating on at least the highest trim level of their vehicles.  Hyundai is no exception to this.  In fact, they have offered leather seating on select Elantra models going back even to the early 2000's.
The leather seating option on the seventh generation Elantra is actually leather-trimmed seating.  This means that all of the surfaces you feel when sitting in the car – such as the seatback, head rest, and seat cushion – use real leather material.  You never need to question whether or not the leather on your vehicle is authentic or made of synthetic material.  At Hyundai, the most genuine materials are always used.
The leather-trimmed seating option is available on the Limited and N-Line trims for the seventh generation Hyundai Elantra.
Visit Carolina Hyundai!
Are you looking for a new or used Hyundai Elantra near the High Point, North Carolina area?  Contact Carolina Hyundai!  We have multiple new and used models of the Elantra available and ready to be taken home.  Here at Carolina Hyundai, we pride ourselves on having a transparent purchasing process – our Sales Experts can answer any questions you may have and walk you through the entire process.  No question is too big or small!  Fill out the contact form below or stop by the dealership at your earliest convenience to test drive one of our available vehicles.  We look forward to seeing you here at Carolina Hyundai soon!