2022 Hyundai Tucson Release: Everything You Need to Know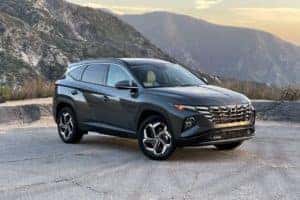 The new 2022 Hyundai Tucson model is a compact SUV. This Sports Utility Vehicle has given a new look inside out and is ready to be released in the year 2022. The Tucson is the Hyundai's best-selling SUV and this 2022 model is going to be its 4th generation version. According to the reports, Tucson is the second best-selling vehicle of Hyundai in the United States. This new model has a futuristic design, a luxurious-looking interior, and options of hybrid and plug-in hybrid and these variants are being introduced for the first time in the United States. If you are looking for an SUV that is fun to drive, fuel-efficient, and sporty in looks then this car is definitely made for you.
Specifications of the New 2022 Hyundai Tucson
Fuel Economy
This model's non-hybrid variant (Base model) is estimated to deliver around 26 mpg (miles per gallon) city and 33 mpg highway with front-wheel drive. The combined mileage is 29 mpg. This means that it takes around 3.4 gallons of gas/fuel per 100 miles. On the contrary, the Hybrid variant of Tucson 2022 will deliver around 38 mpg combined city and highway. However, the fuel economy that the plug-in hybrid will deliver has not been released yet by the company. But this type of plug-in hybrid variant has a 13.8 kilometer Watt per hour battery system and the company claims that it provides around 32 miles of electric-only driving. The fuel economy of this 2022 model is definitely better than the previous generations of this vehicle.
Tank Size
The fuel or gas tank capacity of this model is around 14.3 gallons. However, the other limited hybrid variant has a 13.7 gal tank capacity. This depicts that this vehicle can travel with its tank filled with fuel/gas from the range of 493.2 to 506.9 miles.
Passenger Capacity
The new 2022 generation Tucson has plenty of space for the passengers. It has a total of 5 seats in two rows. There is enough headspace for the front seat passenger and the driver to comfortably drive without feeling congested. It is also spacious enough for the big or taller drivers and passengers providing comfort for long journeys. The second row seats are also spacious with plenty of headspace and legroom which was not usually there in the older generation Hyundai Tucson vehicles. In addition to that, all seats are manually adjustable and reclining. The option of leather upholstery, heated rear seats, heated and ventilated front, and rear seats are also available.
Cargo Space
In the compact SUV class of vehicles of Hyundai, this 2022 model of Hyundai Tucson has the largest cargo space for putting your items such as cycles, carry-on suitcases, camping gears, and baggage for even for long journeys. The space of the trunk that is behind the rear seats is around 38.7 cubic feet and around 74.8 cubic feet if you fold the second row seats. This trunk area is spacious and it is easy to load and unload bigger and bulkier things as well. Moreover, in the upper trim levels of this vehicle, the option of a hands-free lift-gate is also available.
Transmission
This vehicle has a 6-speed automatic transmission with seamless travel and pleasantly quiet cruising that gives a calming experience. Also, its upper trims i.e. the plug-in hybrid has an 8-speed step shift transmission
Release Date of 2022 Hyundai Tucson
The expected launch date of this new 2022 Hyundai Tucson is somewhere in the month of January 2022. The exact date for the release of this compact SUV is not confirmed yet.
Cost of 2022 Hyundai Tucson
The starting price of the new 2022 Hyundai Tucson is $26,135 which is of the base trim models. As we go higher in the trim models, the prices go up. The hybrid variant of this car costs around $30,235 which is the new addition to the variants of this 2022 Tucson. This model also has a plug-in hybrid but the price of it has not been released by Hyundai yet. If we compare it, then it is around $1250 higher than the previous 2021 Hyundai Tucson. An all-wheel-drive option as an upgrade is available for about $1400 for all trims of this newer version, however, the Tucson hybrid comes with a standard all-wheel-drive feature.
This new compact SUV is fuel efficient so it will cover long distances by consuming less fuel. It is estimated to take around $35 to fill up the tank which can go for as long as 500 miles. But the costs would be way lesser for charging the plug-in hybrid.
The costs of maintaining the older version of this car are not much and take around only $400-600 annually for oil changes, tire rotations, etc., however, if any buyer wants to upgrade their older version's engine then the costs are around $2000 to $5000.
Differences Between the Previous Generation Tucson and 2022 Hyundai Tucson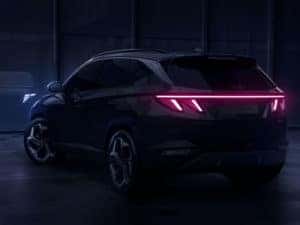 The main difference that we notice when we look at the car is the design of this SUV which is futuristic and a lot different from its previous generation models. The appearance of this vehicle is edgier and more unique. Moreover, this vehicle is longer and has more passenger and cargo space.
To give its owners a sense of sporty and automotive experience, Hyundai has upgraded its interior which includes high-quality material used for the edges, a prominent fancy-looking dashboard, and 64 color mood lighting. Furthermore, the safety features have also been upgraded to maximize the safety of people.
Now coming to the fuel economy and engine power so, this 2022 version has 187 horsepower 2.5 Liter, four-cylinder engine, and its other variant which has 226 horsepower 1.6 Liter turbocharged hybrid engine which improves the fuel efficiency by 30 percent. On the contrary, the older version (2021 Tucson) has 161 horsepower, 2 liters 4 cylinder engine. This means that this 2022 Tucson will cover more miles in a specific amount of fuel/gas than the previous versions of this SUV. Apart from these physical features of the 2022 Hyundai Tucson, this newer generation model is around $1,250 more expensive than the previous generation Tucson. However, the price is justified for the benefits and innovative features the buyers of this SUV will be getting.
Brand New Tech features in 2022 Hyundai Tucson
Infotainment upgrades
The touchscreen present at the dashboard was used to be 7 inches in the previous models and now Hyundai is offering an 8 inches touch screen display which can be upgraded to a 10.25 inches touchscreen.
Safety features upgrade
An important and new feature that Hyundai has added in its new model is the Blind-Spot Collision Avoidance Assistance system. This feature gives audio and visual alerts to the driver when it detects any vehicle or obstacle in the blind spots of the driver when the car is taking a turn. This feature ensures incredible safety even when the danger cannot be seen by the driver. Moreover, it applies brakes automatically when the driver cannot take immediate action.
Brand New Interior Features in 2022 Hyundai Tucson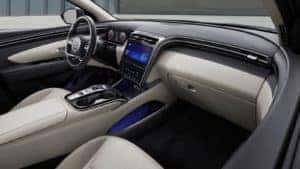 More Space for Passengers and cargo
An extra 6 cubic feet of space is added for the passengers' space which now makes more rear-seat space as we discussed earlier, and 7.7 cubic feet increased cargo capacity.
Better interior and seat material
The interior is also more upscale and made luxurious looking to give its owners a sense of extravagance when they sit in the car. The features of driver assistance have also improved considerably and the infotainment system has also been upscaled and given smarter and trendy looks. The seats are also softly padded and several-ways adjustable to ensure the comfort of its users.
Sound System
This vehicle is also offering a six-speaker stereo sound system which can be upgraded to an eight-speaker Bose Stereo sound system and two USB ports for the second-row seat passengers.
Brand New Exterior Features in 2022 Hyundai Tucson
Overall size and looks
This vehicle is overall 6 inches longer than its previous models and the outer looks are made edgy and sport to give it its futuristic looks. The outside design of the car is made with dramatically creased sheet metal and it is given a more streamlined shape for better driving efficiency.
The prominent feature that the manufacturers of this vehicle want you to notice and that makes it different than the several other brands of SUVs is the front light signature. There are around 10 powerful LED driving lights that give this vehicle a unique look.
Door/ lift-gate features
There is an option of keyless entry made available in this new vehicle and an automatic lift-gate option as well for the ease of the user.
To sum it all up, the 2022 Hyundai Tucson is an affordable compact SUV as compared to the other luxury SUVs. It is comfortable to drive, fuel-efficient, and futuristic looking. The interior has more capacity than the previous models and added safety features. All these features along with its lengthy warranty of 10 years/100,000-mile powertrain and 5 years/60,000-mile new vehicle make it one of the best in the competition of SUVs and a worthy purchase for you.
Pre-Order a 2022 Hyundai Tucson through Carolina Hyundai
If you are located in North Carolina and you want to get your hands on the new 2022 Hyundai Tucson, we can help you out here at Carolina Hyundai of Highpoint. We will pre-order a 2022 Tucson for you and get it into your hands as soon as this model is available to consumers. You can be a trend setter with the new 2022 Tucson. Fill out the contact form below for more information on getting this new vehicle as soon as it hits the market.