2022 Hyundai Santa Cruz Release: What to Know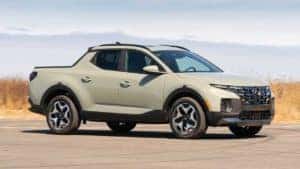 The competition for compact pick-up trucks is increasing as different vehicle brands are introducing such vehicles that are both affordable and smart looking. 2022 Hyundai Santa Cruz is a vehicle that is in the center of an easy-to-drive Sports Utility Vehicle and a pick-up truck. It is the combination of the best bits of all classes of Hyundai. For this vehicle, Hyundai picked up the space of a pick-up truck, the efficiency of an SUV, and the looks of a crossover which sounds a little weird but it has amazing specifications. So if you are a person who is looking for not a traditional pick-up truck but something different like an SUV with a dash more rugged than this vehicle is for you.
Specifications of the New 2022 Hyundai Santa Cruz
Fuel Economy
The basic variant of this model has a front-wheel drive and delivers 21 miles per gallon in the city and 26 miles per gallon on the highway which is 23 mpg combined. If you will upgrade this variant to the all-wheel driver then the mpg will remain the same except that mpg on the highway will drop by 1 mpg. The particular reason for this is because typically two front-wheel-drive versions of vehicles are more fuel-efficient as it has less weight and drag. If we talk about the turbocharged engine version then it drops the mpg in the city to around 19 and 27 mpg on the highway which makes 22 mpg combined. Surprisingly, this vehicle is more fuel-efficient than some larger pick-up trucks and similar models.
Tank Size
The fuel or gas tank capacity of the 2022 Hyundai Santa Cruz is 17.7 gallons. The other trim levels also have similar tank capacities. And this shows that this vehicle can cover, with its tank filled with fuel/gas, around 407 miles, and the turbocharged engine version can cover an estimated 389 miles.
Passenger Capacity
The first thing you will notice if we look at the interior of this car is how spacious it is. Hyundai did not compromise on space and comfort just because it was a unibody pick-up truck. Considering it is a compact pick-up truck it still has plenty of space in the second passenger's row seats as well. There is also enough headroom which is around 40 inches and legroom of 41.4 for the front seat passengers to ensure a comfortable ride. The space is also plenty enough for taller and bigger drivers. 2022 Hyundai Santa Cruz is a five-seater and this specification is the same in all its trim levels. In addition to that, the upper trims of this model give more luxury interior options with quality materials seats and added features.
Cargo Space
The special feature of this Santa Cruz model is its 4.3-foot trunk bed. It is obviously smaller than the beds of larger pick-up trucks but it is not insufficient. It is around 52.1 inches long, 53.9 inches wide, and 19.2 inches tall. If you are an adventurous kind of person and like to go on camping trips then this car is best for you as the trunk bed is big enough to fit all of your camping gears, cycles, baggage. In addition to this capacity, there is also a hidden storage compartment under the bed floor. This hidden storage can fit two backpacks and can be locked for safety purposes. However, the space inside the cabin is not much. The front seat doors have cup holding space and the rear seat door gets door pockets.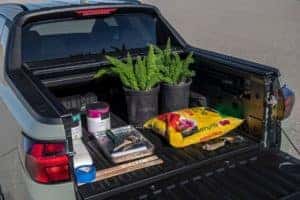 Transmission
This vehicle has an 8-speed automatic transmission which provides a comfortable on-road and off-road drive. The transmission speed, however, remains the same in all its upper trim models.
Release Date of 2022 Hyundai Tucson
The expected launch time is around the summer of the year 2022 and will be arriving at the United States' Hyundai dealerships. Any confirmed date or month has not been released by the company yet.
Cost of 2022 Hyundai Tucson
The starting price of the upcoming 2022 Hyundai Santa Cruz is $23,990 and this price is of the base SE trim model. As we go up in its 4 trim levels, the prices go up. The SEL trim model has a price of $27,190, the SEL premium costs around $35,680, and the Limited trim level come with a price tag of $39,720. If we look at the previous Hyundai's Tucson crossover model, then its starting price is around $24,950 so, this unibody 2022 Hyundai Santa Cruz vehicle is around $1000 lesser expensive than the previous SUV model. However, its upper trim levels are on a more expensive side.
This new compact pick-up unibody truck is fuel efficient which means that this vehicle is capable of covering longer distances by consuming less fuel. The estimated amount to fill up the tank with gas/fuel is around $44 if we take the $2.5 per gallon rate.
There is no such older version of this unibody Santa Cruz truck, however, if any buyer wants to change their basic trim level feature of front-wheel drive to all-wheel drive then it will cost them around $1500.
Differences Between the Previous Models and 2022 Hyundai Santa Cruz
The major difference that you will notice when you look at the car is its trunk bed at the rear end. This vehicle looks like a crossover SUV from the front and a pick-up truck from the back. Also, this is not just an ordinary unibody vehicle, this vehicle has incredibly stylish and tasteful looks. The bed of this truck is not as bigger as the other big pick-up trucks but this one comes with hidden storage space underneath the truck which gives this vehicle an upper edge over the others.
In addition to the exterior features of this car, the interior is also classy looking and Hyundai has added some comfort and ease features to it to give it a luxury car touch. The upgraded safety features are also added to this vehicle to ensure safety on roads and off-roads as well.
Talking about the engines of this vehicle, this model comes with a standard 2.5 Liter inline-4 cylinder engine which produces 191 horsepower. This vehicle can tow up to the weight of 3,500 lb objects and if the all-wheel-drive option is available then it can tow up to 5000 lb weight. The other trim model which has all-wheel drive also has a 2.5 L engine but it produces 281 horsepower. Hyundai also promises the safety of its customers so they have added the driver assistance system in this model as well.
Brand New Tech Features in 2022 Hyundai Santa Cruz
Infotainment upgrades
This 2022 Santa Cruz comes with an 8-inches touchscreen display which can be upgraded to a 10.25 inches touchscreen. Along with this, there is wireless Apple CarPlay, Andriod Auto, Bluetooth, and a remote opening of the tailgate. In the upper trim levels, there is also an option of wireless smartphone charging available.
Safety features upgrade
This vehicle has a surround camera system which gives the driver a wider view to drive easily on the trails and/or into parallel parking spaces. In addition to this, this vehicle has its standard Hyundai safety features including the automatic braking system, pre-collision alerts, blind-spot monitors, and so on.
Brand New Interior Features in 2022 Hyundai Santa Cruz
Ample Space for Passengers
There is ample space for the passengers of the first row as well as the second-row seats despite this vehicle being a combination of a crossover SUV and a pick-up truck. In mostly pick-up trucks, there is not plenty of space for the rear seat passengers but the case is different with this Santa Cruz model as it has around 36.5 inches legroom and 40.1 inches headroom for the rear seat passengers.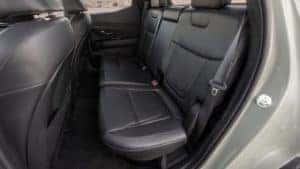 Better interior and seat material
The interior is simple yet elegant looking as it has a black gloss finish and textured dashboard to give it an upscale look. The 'Limited' variant of Santa Cruz comes with a launch package that upgrades the cabin color to dark grey with hints of orange.
Fully Digital Gauge Cluster
This vehicle is also offering for the first time in its class a fully digital gauge cluster and has a traditional gear shifter at the center console which is a good thing instead of a rotatory knob-like shifter as it is not practicable.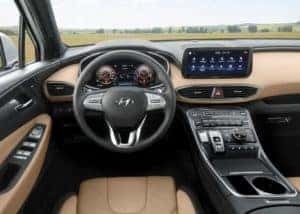 Brand New Exterior Features in 2022 Hyundai Santa Cruz
Overall size and looks
This vehicle is overall 6 inches longer than the usual SUV crossovers of Hyundai. Moreover, the looks of this car are very modern and tasty looking. This is by far the coolest-looking truck I have seen in a while. The rear of this car is also equipped with attractive cluster LED lights giving this car an overall sturdy look.
Trunk bed
Santa Cruz has a 4.3-foot truck bed at the rear of this vehicle which makes it a half pick-up truck. This space of bed is useful for carrying big and large amounts of items for long trips.
To sum it up, the 2022 Hyundai Santa Cruz is an attractive deal for anyone looking for a car that is stylish looking, has sturdy looks, and has plenty of space for cargo, and can be used for adventurous trips. With the starting price of $23,990 and an incredible list of features and a good warranty period, I would definitely recommend this unibody vehicle to you.
Pre-Order the 2022 Hyundai Santa Cruz through Carolina Hyundai
If you are eager to get your hands on a new 2022 Santa Cruz, you're in the right place. If you are in the North Carolina area, contact Carolina Hyundai of Highpoint today and we can get you this new model as soon as it comes out. You will be one of the first consumers to have the brand new 2022 Hyundai Santa Cruz. Fill out the contact form below and we will answer all your questions about being at the front of the line for this new model.